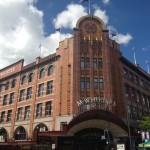 I wrote What Will Be Worn, a family memoir, as part of an MPhil in Creative Writing at the University of Queensland. What Will Be Worn is about my mother's family, the McWhirters, who once owned the Fortitude Valley department store of the same name. It will be published by Transit Lounge in August 2018.
At the close of World War Two, thanks to multiple inheritances, my grandfather was McWhirters' largest individual shareholder. In February 1946, my grandmother was named one of Brisbane's Ten Best-Dressed Younger Marrieds by The Courier-Mail. A few months later the family moved into a nine-bedroom mansion, complete with ballroom and servants quarters, on a hill overlooking the Indooroopilly reach of the Brisbane River. My grandfather bought a few racehorses, including one called Pendulum, by Spearfelt out of Tick Tock. Rationing finally lifted, my grandmother shopped and shopped: dresses, skirts, shirts, shoes, bags, furs, gloves, hats. The children were cared for by a nanny. He played to win and lost, doubling down on his own horses. By decade's end his inheritance was gone.
In November 1955, a week after Rising Fast failed to finish fast enough to win a second Melbourne Cup, my grandparents divorced. The juicy details of the hearing – his debts and drinking, her alleged affair – were splashed across the pages of the Truth. That same week, in one of life's strange synchronicities, McWhirters, the family business my grandfather was no longer a part of, was sold to Myer.
The McWhirter building still stands, its grand facade presiding over Brunswick Street Mall in the Valley. The memoir is, as much as anything, my attempt to peer in through the island windows of that grand facade, past the displays that once drew shoppers from all over Queensland, through the advertisements and social pages, beyond the Truth, and into the lives of my ancestors.